This feature of WHINT Interface Catalog for SAP Process Orchestration allows you to compare your SAP PI/PO Interfaces across the landscape (e.g. DEV-QUAL-VAL-PROD) to find out if you are in sync with your developments everywhere in the same version. Even if you always transport your objects (e.g. via CTS+), it is possible that you missed on something or the routing has been changed manually in the Integration Directory (or NWDS).

You run the landscape check periodically
for your entire landscape (generates an Excel document IFC_LandscapeCheck_IC.xls) and/or
by configuration scenario (generates Excel documents <scenario>.xls). This is the recommended way.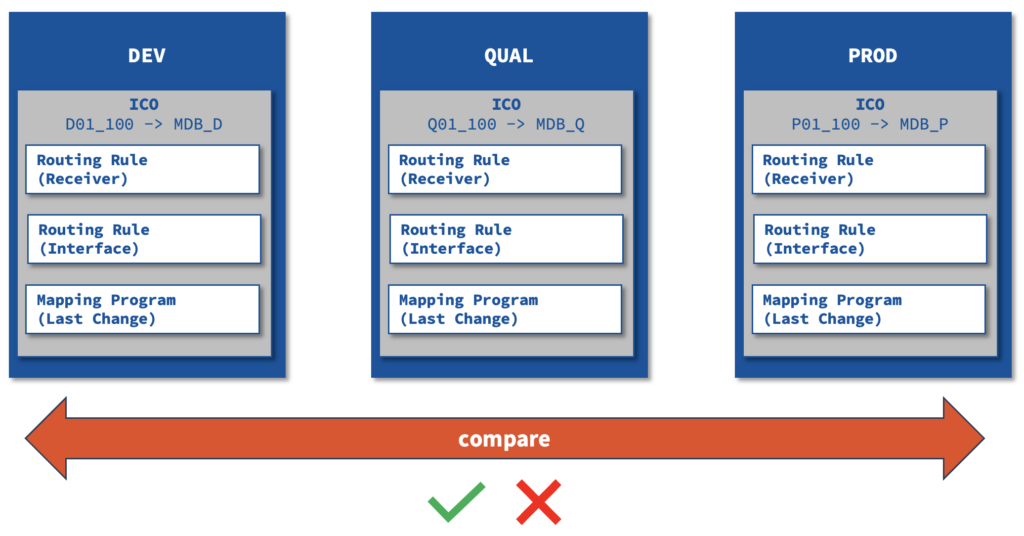 It compares the Integrated Configurations across your SAP PO system IDs
the last change date of each mapping program used by the Operation Mapping
Receiver Routing Rule (e.g. XPath)
Interface Routing Rule (e.g. XPath)
The Business Systems are normalized by maintaining a mapping list using regex rules to have them comparable (e.g. .*_D in XD1 = .*_Q in XQ1).
You can configure, which scenarios should be part of the landscape check below.