With the Performance Monitor of SAP Process Orchestration, we are able to retrieve valuable information about the messages per period (e.g. month/week/day) into WHINT MessageVolume Report.
With the latest update (10.2018) you are now able to retrieve reports on the following additional key performance indicators:
Maximum (peak) Message Size
Message Direction (inbound/outbound)
Mapping Processing Time (in ms): Average & Maximum
(The difference between total and mapping processing time is spent on queueing and connectivity)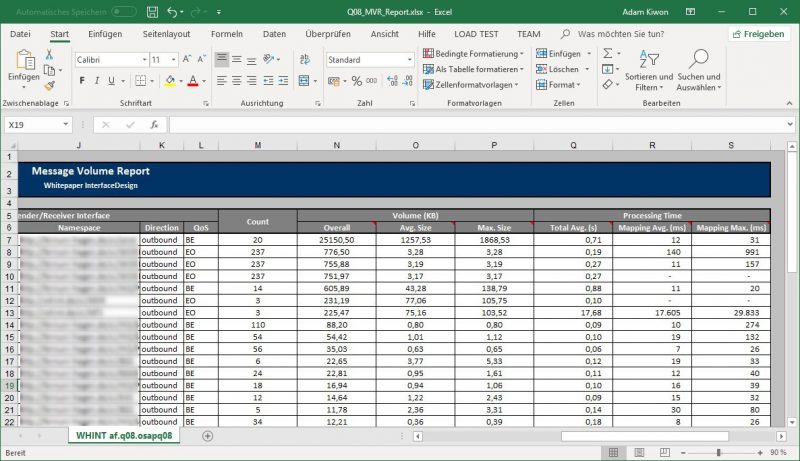 ---
The second update is that now only one MVR Excel file is generated which contains one Sheet per Adapter Engine and not one Excel file / Adapter Engine. The Time Range as well as period of the report is also shown in row 4.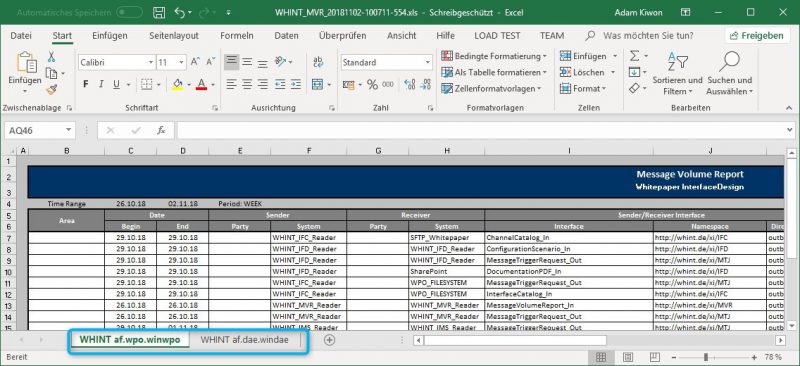 ---
Last but not least we simplified the way of collecting the data, by reducing 3 ICOs/iFlows into 1 in the configuration.
Configuration (Integration Builder/NWDS):
Replace the operation mapping in the first ICO (sender interface MessageTriggerRequest_Out) by selecting PerformanceMonitor_READ (http://whint.de/xi/MVR)
Replace the receiver channel (from SOAP to File/SFTP/Mail) using the one of the third ICO (sender interface MessageVolumeReportResponse_Out)
Undeploy and delete the obsolete ICOs 2 & 3.