Our WHINT Interface Management Solutions for SAP Middleware (Process Orchestration/Cloud Integration) provide quality & control for your interface landscape, delivering transparency & governance through documentation & reporting and well managed interfaces through monitoring & alerting.



This document describes how to differentiate our solutions from existing components and products
---
1. Governance, Transparency & Documentation (Interface Catalog & Interface Documentation)
Solution Manager: The only place where you can see a kind of documentation of interfaces is the Project Documentation. There is an import mechanism existing to read from an Integration Directory and build a structure which can be used for (manual) documentation. Issue is that only the names of the interfaces are being imported and no details regarding routing, mapping or channel configuration…
IFC: Creates an Interface and Channel Catalog into Excel with all mapping, routing, scenario and channel parameters
IFD: Creates PDF documents per Configuration Scenario listing all routing, mapping details and descriptions.
---
2. Interface Reporting (MessageVolume Report)
Performance Monitor: This is the basis for the MVR and runs within the PI Monitoring (PIMON) of a Process Orchestration system. Unfortunately it allows us to analyze and breakdown in smaller periods up to one day. Our MVR is able to retrieve data for a larger period (e.g. MONTH), collect & aggregate the volumes and figures and assign them to reporting areas.
Solution Manager (via Early Watch Report) provides runtime statistics also on interface level. Among many SAP Basis-oriented KPIs (database, memory, sizing, housekeeping) there is also chapter 16 with performance data for all runtime engines. However, you only get the Top 20 interfaces to determine the workload – not to perform optimization by interface.
Wily Introscope helps to analyze certain (technical) components, such as channels or queues to identify bottlenecks and optimize/fine tune the throughput.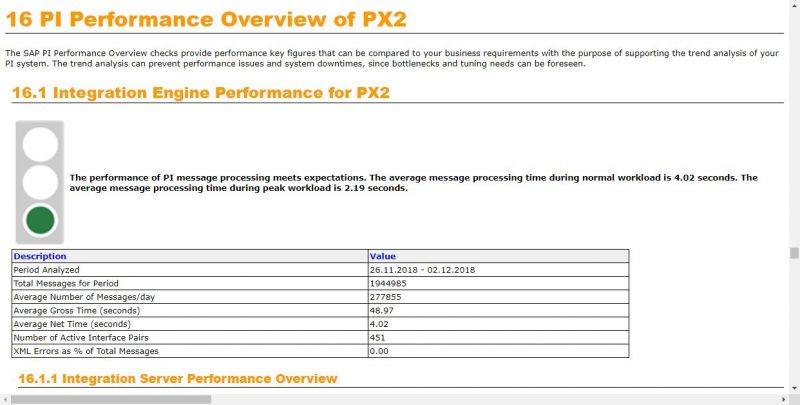 ---
3. Monitoring & Alerting (Interface Monitoring & MessageMissing Alert)
PI Alerting is used for near-realtime alerting in case an error occurs. Sounds great in theory but is a flooding of alerts in reality which creates too much noise. See our article "Why standard SAP PI alerting is not enough".
Solution Manager provides special Process Orchestration Monitors and can be used for alert management as well. Issue here: Complexity and missing overview with lean message delivery about the landscape status (across components).
Application Interface Framework (AIF) is a Local Backend Monitor (ABAP), mainly used for asynchronous inbound messages (XI Proxy, IDoc) which are in error and need reprocessing or manual action.
Infrastructure Monitoring Tools such as Splunk provide SAP Basis relevant KPIs and metrics with regards to technical thresholds that can be defined (memory, file system, CPU, etc.). An interface- or process-oriented view is not foreseen.
IMS provides periodic snapshots of your interface landscape (channels, messages and queues across runtime systems). Nothing like this exists, however you can achieve coverage by combining several tools.
MMA has no alternative tool – if you want to check if a message was sent (or not), you simply have to check the monitoring yourself…
---
In fact, a combination of tools is recommended by user type:
The SAP Basis and Infrastructure teams rely on SAP Solution Manager as well as additional infrastructure monitoring tools
Business Users clearly work with AIF and IDoc Workflows
Integration Experts (especially DevOps oriented) go for WHINT Interface Management and Wily Introscope if needed for deep diving into a specific topic.
---
To be clear: There are also other products existing in the market, targeting similar aspects. What they all have in common:
You need additional hardware or you need to install a separate tool with a propietary user interface whereas WHINT solutions deliver Excel/PDF from and into the Process Orchestration system (accessible via http(s)://<host>:<port>/whint)
There is no software suite available covering all aspects of Interface Management from a SAP Middleware perspective