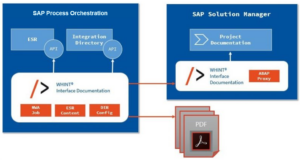 Functionality
This solution creates an automatic documentation of your interface landscape into your SAP Solution Manager and/or generates PDF documents in plain text describing your SAP Process Orchestration Configuration Scenario.
The result appears as the Business Blueprint in SOLAR01 / Configuration in SOLAR02 (SolMan 7.1).
The structure is as follows:
Business Scenario = <Configuration Scenario>

Business Process = <Sender> & <Sender Interface> (Integrated Configuration/Receiver Determination)

Process Step = <Receiver> & <Receiver Interface>
The overall logic is using the structure of the Interface Catalog, providing a complete list of all end-to-end interfaces of your landscape: How to use the results of WHINT InterfaceCatalog.
The following information is provided in addition to the structure as Project Documents:
Business Process

Sender Channel
Interface Namespace

Process Step

Mapping
Routing Rule
Receiver Channel
Interface Namespace
Level Business Process (Integrated Configuration): <SenderParty> <SenderService> <Outbound Interface>
Project Documentation: Communication Channel (incl. Status)
Level Process Step (Receiver Interface of Integrated Configuration): <ReceiverParty> <ReceiverService> <Inbound Interface>
Project Documentation: Routing Rule (Receiver & Interface Determination)
Project Documentation: Mapping (incl. Parameters)
Extended Receiver Determination (Mapping) as Routing Rule
Change Mode:
Any update of your interface landscape is reflected automatically in the business blueprint structure.
Project Documents, which have been added manually (like e.g. Mapping Specifications/Mapping Implementation Guide/Service Implementation Guide/etc.) are not removed when the project is updated. This way you can even enhance your documentation on scenario/process/process step level adding your own documents.
---
Prerequisites
You need to have the WHINT Interface Catalog already, which reads all interfaces and routings from your Integration Directory. Instead creating an Excel document, the results are sent as an XML via Web Service (ABAP Proxy) to your SolMan.
Import the ABAP Transport provided by Whitepaper InterfaceDesign into your Solution Manager.
Import the ESR Content "WHINT_IFD, 2016.10 of whitepaper-id.com" (TPZ provided by Whitepaper InterfaceDesign) into your SAP Process Orchestration ESR.
The solution was tested with SAP Solution Manager 7.1 and will be released for 7.2 soon.
---
Configuration Guide
Change the existing iFlow/Integrated Configuration (PO) or Receiver Determination (PI) to add the Receiver Interface ProjectDocumentation_In [http://whint.de/xi/IFD] with the appropriate Operation Mapping InterfaceCatalogWithScenarios_To_ProjectDocumentation [http://whint.de/xi/IFD].
Set the URL and Solution Manager Project ID and Description via the mapping parameters
Now the next time you generate your Interface Catalog, your Interface Documentation is sent to your Solution Manager and creates a maintenance project with all the information.