It is important to configure staging and logging for SAP Process Orchestration Integrated Configurations (ICOs) / iFlows, as it defines, which messages (sender or receiver) are visible in the monitoring and also improves error analysis to add an additional payload (before/after mapping). Please find our recommendation / Best Practice here.
It should be applied for all your interfaces. However, it is not easy to go through all iFlows/ICOs and check them one by one to see if the settings have been applied. SAP also does not recommend to change the global settings, so best is to have them in an Excel document and identify the wrongly configured ones.
With this update of WHINT Interface Catalog for SAP Process Orchestration you can also see the staging & logging configuration in the Excel overview document.

---
global = Use global configuration which is:
Staging:

Store for Receiver Determination (MS)
None for all other steps

Logging:
The recommended staging & logging configuration is:
| | |
| --- | --- |
| Staging | Logging |
| BI=1,VI=0,MS=0,AM=3,VO=0 | BI=0,MS=2,AM=0 |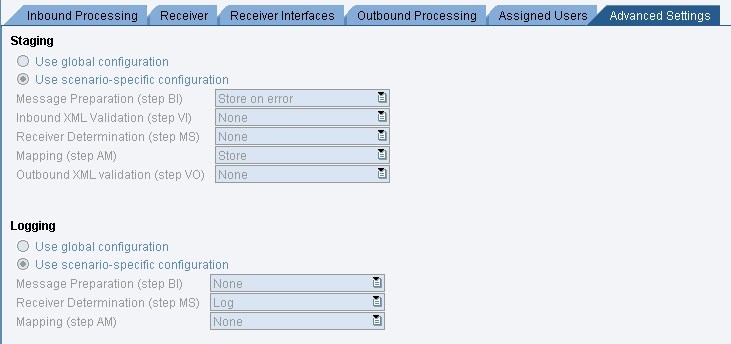 The staging & logging information is listed as follows:
BI = Message Preparation
VI = Inbound XML Validation (staging only)
MS = Receiver Determination
AM = Mapping
VO = Outbound XML Validation (staging only)
Staging value selected (from dropdown):
0 = None
1 = Store on Error
3 = Store
Logging value selected (from dropdown):
0 = None
2 = Log
6 = Log on error
10 = Log without payload
14 = Log on error without payload
---