What leads to Integration Excellence? Is it enough having a great middleware in place which is operated by skilled and talented people? Or is there more we have to do to achieve an excellent integration environment where messages are exchanged happily and no problems occur between applications and business partners?
We all agree that Interfaces (being our digital glue code) are mission critical for the success of our business which is supported by complex application landscapes and partners we have to interact with (running on-premise, in cloud or in hybrid environments).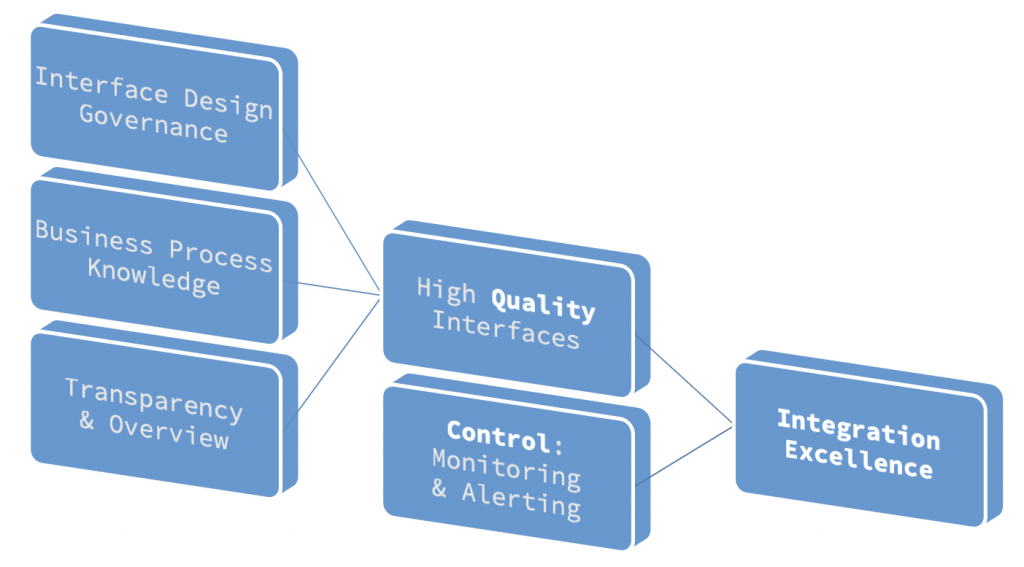 So what are the prerequisites to achieve Integration Excellence?
Interface Design Governance: Having a methodology how to build new and manage existing integration artifacts using e.g. Reuse, Standardization, (Performance-) Optimization, Choice of Technology
Business Process Knowledge: Knowing why a message is exchanged and which financial or customer-facing impact this has (if an order can not be processed or if a bank statement can not be imported)
Transparency & Overview: Knowing what has been built (to avoid reinventing the wheel), where to find things (organizational codes or technical elements) and what is being processed (and how quick/slow)
Control: Being ahead of business impact and incidents created by users. Use capabilites to anticipate error situations and detect issues quickly with a smart monitoring and alerting.
---
Summary/FAQ/Cheat Sheet:
Definition: Integration Excellence is the capability to design interfaces efficiently and operate them safely using state of the art integration technology and understanding the business context.
Are Interfaces important? Yes, they are mission critical
Is Interface Management important? Yes, organizing integration content and managing the interface landscape operations is key to a smooth integration of applications and partners
Is Interface Management urgent? Well yes, it is super urgent! If you do not manage your interfaces well, you risk downtimes and delays which results in higher operational costs or the loss of revenue! Take the necessary time to set up a proper Interface Management for your SAP Middleware!
We provide solutions to improve the transparency (documentation & reporting) and control (monitoring & alerting) for SAP Middleware Landscapes to help organizations achieving Integration Excellence.
Contact us for further information on SAP Interface Management Solutions.