Functionality
This solution reads the performance data of each Process Orchestration Adapter Engine and creates a report (monthly/weekly/daily) with the message volumes per Interface:
Count (number of messages)
Processing Times (total average processing time, average & maximum processing time for mapping and receiver adapter)
Size (average message size, maximum message size)
Volume (total message volume per interface)
Quality of Service (BE/EO/EOIO)
Direction (inbound/outbound)
Sender (Party, Service)
Receiver (Party, Service)
Interface (with Namespace)
Scenario (Integration Flow Name/Integrated Configuration)
Retries (number of message processing retries as average and maximum)
Each Interface can be assigned to an area by maintaining a configuration file (e.g. all interfaces belonging to a subsidiary, brand or a specific scenario).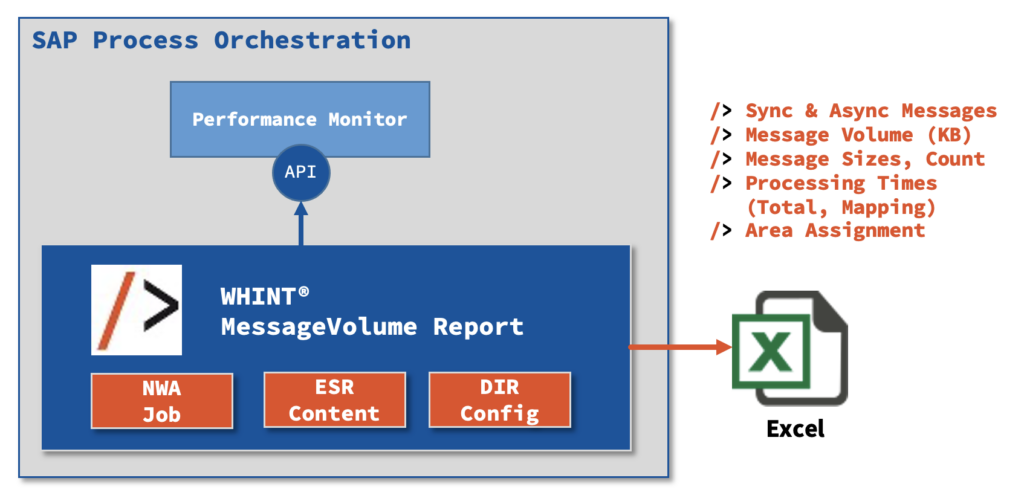 ---
Prerequisites
Works with SAP NetWeaver Process Orchestration version 7.3 EHP1 and higher
If you read from more than one Adapter Engine and you enforce SSL, you need to apply SP15 for 7.31 / SP10 for 7.40
Create a new User with the following standard role (or equivalent custom role): SAP_XI_MONITOR_J2EE
Activate the performance monitoring in NWA

Configuration > Infrastructure > Java System Properties
Services > XPI Service: AF Core
Properties > profile.performance.runtime = true

Deploy WHINT MessageTrigger Job, which is part of the solution to trigger messages
Import the Software Component into your ESR provided by Whitepaper InterfaceDesign
Configure the Scenario by installing the Integration Scenario in NWDS (via iFlows) or in Integration Directory Swing Client
Configure the interval to keep the last 45 days (at least 32) of the message processing by executing the following URL on your Process Orchestration system: http(s)://host:port/mdt/performancedataqueryservlet?PeriodConfig=DAILY=45
---
Usage
Trigger the download of the WHINT MessageVolume Report using a trigger job

Add a new task of type "MessageTriggerJob" and provide a name (e.g. WHINT_MessageVolumeReport)
Set the ScenarioSender according to your Configuration Scenario (e.g. WHINT_MVR)
Configure the report period in the MessageTrigger Job definition

Param01: PERIOD=<reportingPeriod>
The following reporting periods are possible:

MONTH (default)
LAST_MONTH
WEEK (last 7 days)
LAST_WEEK (since monday)

Setup the area assignment like this in the Imported Archive "Lookup_XML", file "Lookup_Area.xml"

Area: Test1

SenderSystem: Party_BC1 / SenderParty: Party1
ReceiverSystem: System3 / ReceiverParty:
Interface: Message_Out / InterfaceNS: urn:test

Area: Test2

SenderSystem: System4 / SenderParty:
ReceiverSystem: Component2 / ReceiverParty:
Interface: * / InterfaceNS: *
---
Example
The company (group) wants to distribute the costs for the SAP middleware operations across all (local) companies/subsidiaries based on the message volume they are using. Each month they execute a measurement and summarize the result into an Excel file.
The result can also be pushed into a BW data source (available on demand).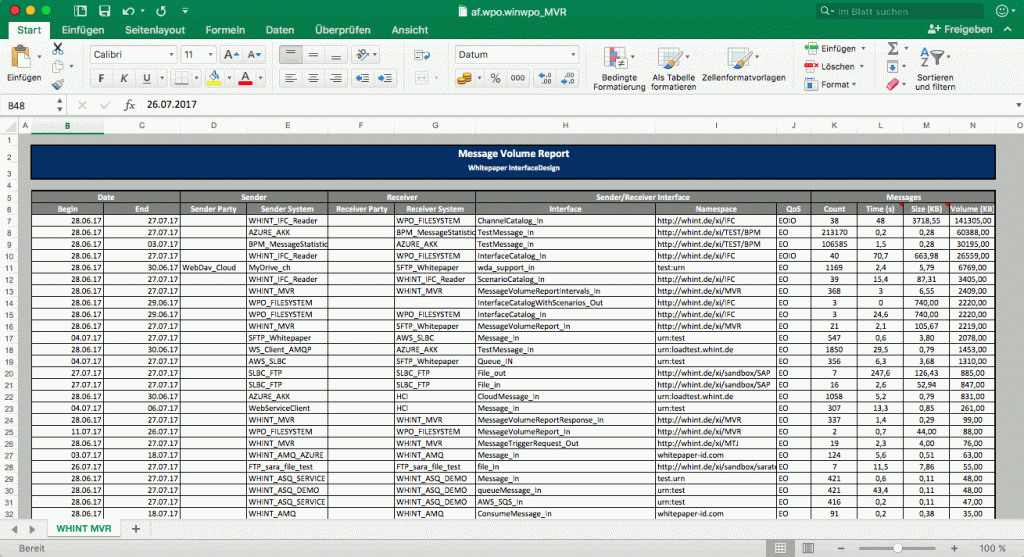 ---