This solution provides you with an overview about your Integration Landscape: All information from your configuration of your SAP Process Orchestration System as well SAP Backend Systems.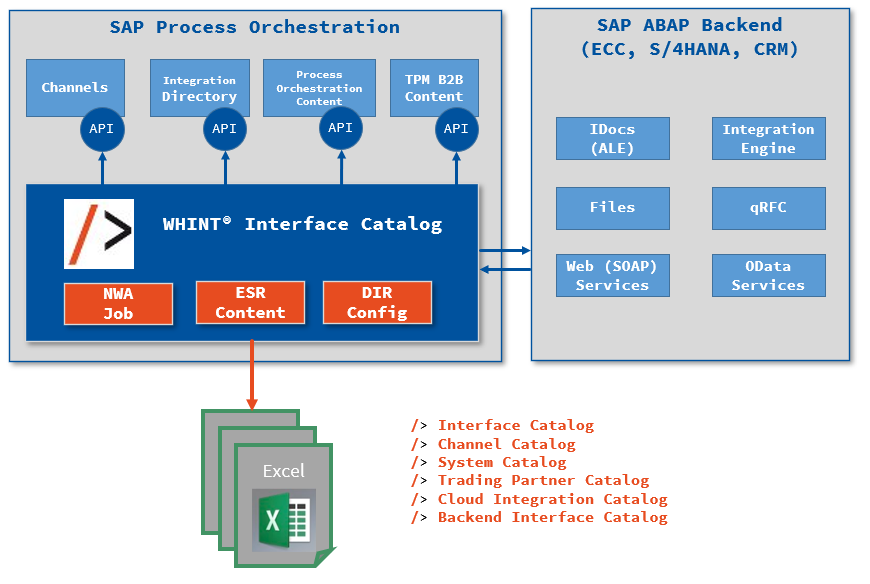 The tool downloads (e.g. periodically)
the Interface Catalog (based on all Integrated Configurations)
the Channel Catalog (based on all channels or on all channels used in the Integrated Configurations)
the Trading Partner Catalog (TPM, based on SAP B2B Add-on Trading Partner Management, 7.50 only)
the Cloud Integration Content Catalog (locally deployed CPI content, 7.50 only)
the Interface Catalog Classic (optionally for PI only, based on Dual-Stack classic routings)
Backend Interfaces (from SAP ABAP Systems: IDoc/File/WebService)
as an Excel Sheet.
All Routing information can be read as well as all communication channel attributes (e.g. host name) and all adapter modules including the corresponding parameters.
It answers questions like
what are the routing conditions for Partner X or IDoc Y ?
where do we use a specific FTP host?
where do we use Content Conversion (also via the MessageTransform Bean) ?
The solution is not invasive (no specific installation needed) and runs completely as interfaces using Standard Process Orchestration technology. Only read access is required using the Integration Directory API.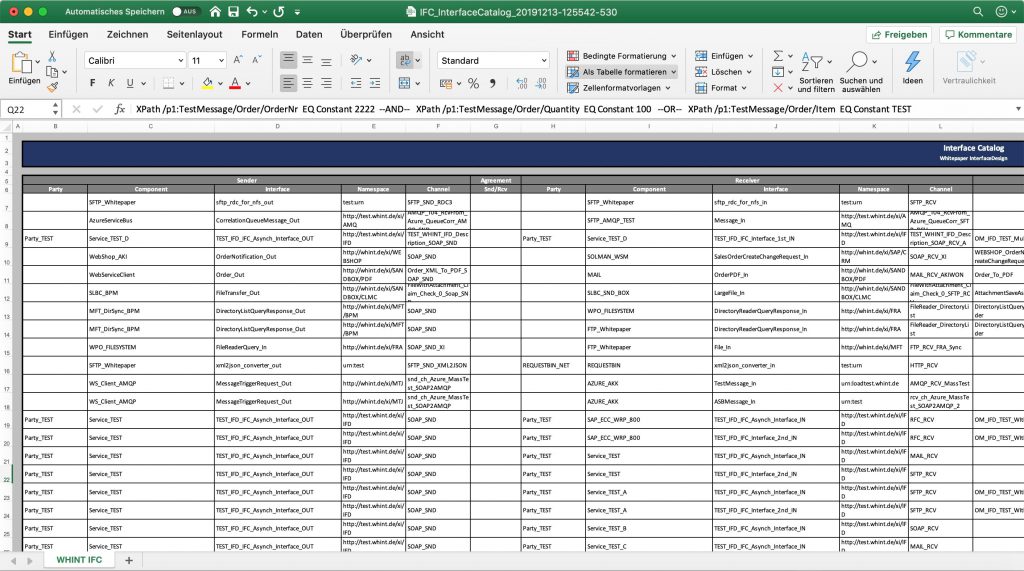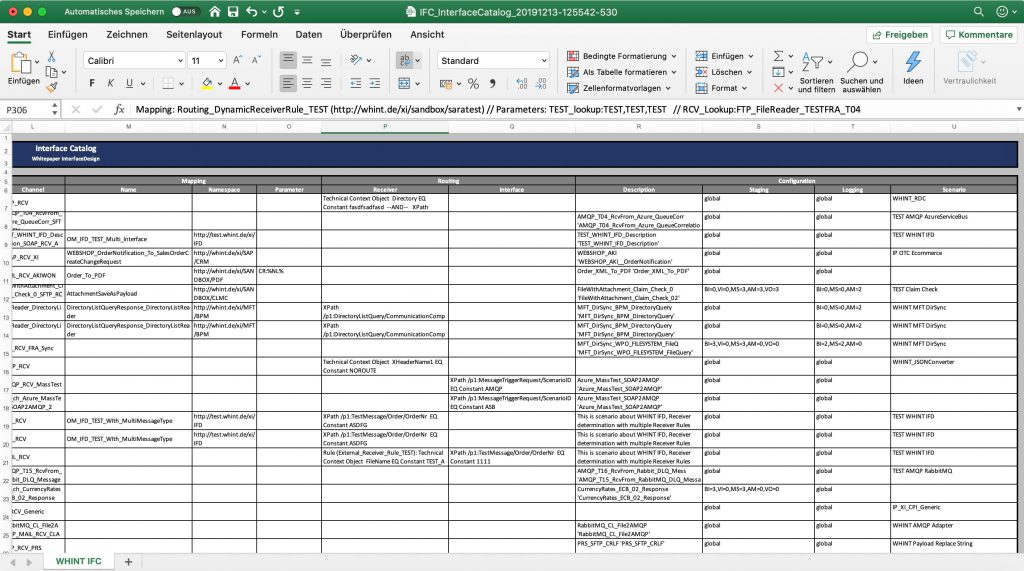 ---
Import the TPZ file provided by Whitepaper InterfaceDesign into the ESR
Configure the Process Integration Scenario using the Swing Client (Integration Builder: Directory) or Eclipse (SAP NetWeaver Developer Studio – NWDS) – see Configuration Guide below
---
Create a user to access via the Integration Directory API (SOAP Receiver Lookup Channels) with the roles: SAP_XI_API_DISPLAY_J2EE and SAP_XI_APPL_SERV_USER
Create two business components according to your naming conventions, e.g. WHINT_IFC and NFS_<SID>(in PI 7.11 it must be a Business System, for newer releases it can be either Business Component or Business System)
Each object is extracted through a SOAP Lookup API call used in the Operation Mapping. Create all necessary SOAP Lookup Channels for the the system WHINT_IFC using the Channel Templates provided for the Objects

Communication Channel
Integrated Configuration
Configuration Scenario
Classic only: Receiver Determination
Classic only: Interface Determination
Classic only: Sender Agreement
Classic only: Receiver Agreement

Start the wizard with the Process Integration Scenario WHINT_InterfaceCatalog, select the Component view matching your release and assign the systems to generate your iFlows/ICOs
Assign the lookup channel parameters and select the correct NFS path where to write/read files
Repeat this activity for Process Integration Scenario WHINT_InterfaceCatalog_Classic if you want to create the Dualstack InterfaceCatalog as well
---
---